Abandoned Haunted House Complex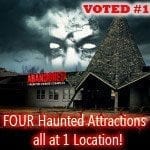 Abandoned Haunted House Complex
Come for a full night of Fear! FOUR haunted attractions at 1 Location!
New for 2016– STALKER.  Stalker is our brand new Haunted Cornfield.  Stalker combines the eerie feel of the back-wood outdoors with the suspenseful immersion of our indoor haunts to create an all new experience!   In addition to Stalker, Abandoned is home to two indoor haunted houses: HYSTERIA, which is a mind-bending interactive haunted house and AMBUSH, our high-startle and attack haunted house, sure to scare just about everyone.
We've also have SHOOT-A-FREAK, where you can take out your frustrations with a paintball gun–show our clown who the REAL boss is!
Prepared to be fully immersed in scenes and detail where you can live the fear.  Our professional sets and detailing will blow you away. Be prepared to be impressed visually, physically, and mentally.
For a full night of fear, we're just a short drive from Chicago, located adjacent to I-94 just North of Kenosha.