The Haunted House Chicago Review Team
HHC Review Team on Twitter | HHC Review Team on Facebook
HHC Review Team on Snapchat | HHC Review Team on Instagram
Since 1999, haunted attraction reviews have been an integral part of the service we provide to our readers. From identifying the biggest and best attractions in the area, to seeking out the new and up-and-comers, the Haunted House Chicago (HHC) Review Team pulls out all the stops to make sure no attraction is overlooked.
In addition to reviews, the HHC Review Team is responsible for compiling each year's Official Haunted House Chicago Top 13 haunted attraction list. This provides our readers with a list of all the best attractions from each calendar year. And, of course, identifies each year's Haunted Attraction of the Year.
Some of the criteria the team looks for while reviewing an attraction includes: entertainment, scare factor, acting, set design and detail, costumes, makeup, sound, lighting, special effects, originality, as well as management and marketing.
While the team is out reviewing, they also keep an eye open for stand-out characters. Each year, they choose one or two actors/actresses who rise above the rest to receive the actor of the year award, which is named "The Jim Warfield Acting Award". Beginning in 2011, they also started choosing what, in their collective opinion, is the Best New Haunted Attraction for that season.
To stay up-to-date with all the updates and follow the team along their travels, check out their Twitter feed at: http://www.twitter.com/HauntedHouseChi.

KRIS ZAHROBSKY
Kris' love affair with Haunted Houses began at an early age. During annual family Halloween parties, his Aunt and Uncle would put on a small haunted house in their basement just for family and friends. Formed with walls from hanging bed sheets and props made of refrigerator boxes, it sparked his imagination and began his quest for all-things haunted. (Plus, being from Berwyn also gave him a head-start. BEERRRRWWWYNNNN!)
As Kris grew older, he sought out bigger and scarier attractions. Starting with the Riverside (IL) Jaycees, Kris started assembling a normal tour of haunted attractions each year. But, because he was only 13 years old, Mom and Dad had to cart him around. (Which definitely put a limit on the miles.)
But, that all changed as soon as the Illinois Department of Motorists issued Kris his license to drive. (Someone sure made a mistake…)
Soon, Kris was visiting 8-10 attractions a year and starting to have other people frequently ask, "Where should I go?" and "What's the best haunted house?"
Kris scoured the internet for a place to find such information. But, alas, there was nothing that truly ranked local haunted attractions. But, he did find review websites. So, Kris applied to be a reviewer for HauntedHouse.com. (Which was owned by Nucleus Communications of Hackensack, NJ, at the time.)
Over the next few years, Kris reviewed nearly 25 houses a year and wrote many reviews for them, as well as the Chicago Tribune. One day, Kris had a vision to combine reviews with rankings on the web and focus them towards local geographic areas. He pitched the idea of localized sections to HauntedHouse.com's management, but was told that they would be getting out of the business and couldn't develop any new ideas at that point.
After working with a partner, Kris developed his vision and the concept of Haunted House Chicago was born. Within days, the first version of HauntedHouseChicago.com was publicly launched on the web.
Although Kris sold Haunted House Chicago in 2008, the new owners insisted that Kris remain as the Chief Reviewer and head of the Haunted House Chicago Review Team. (For more on this story, click HERE.)
Since 1999, Kris has reviewed hundreds of attractions for Haunted House Chicago. In 2010, Kris and his team reviewed 51 haunted attractions, in 2013 it was 60!
As each new season kicks-off, Kris and his team will set out once again to discover the best of what Chicagoland has to scare you with! Where do you want to scream tonight?
If you have any questions, Kris can be reached by email at: Kris@hauntedhousechicago.com.
RACHEL OLDAKOWSKI
While Kris has had years of experience in the Chicagoland haunt industry, Rachel was the complete opposite. In fact, she hated haunted houses! Because of her overwhelming fear of them, she admits she had only been to 2 or 3 in her lifetime before joining the HHC Review Team (And kept her eyes closed the entire time, or chickened out half way through!)
Once her first season was under her belt, the rest was history. As the seasons went on, Rachel began to develop a love for haunted attractions and all things Halloween. Now, it's pretty hard to scare her, and we commend anyone that can get a good jump out of her! Rachel is the token short member of the review team, which usually makes her the central point of 99% of actor attacks. Because, let's face it, the short little blonde girl ALWAYS gets picked on the most!  (Or they at least try to pick on her!)
Rachel has been a full-time reviewer for HHC since 2009 and looks forward to each and every Halloween season. She has a strong background in business and marketing. She also oversees all of the social media (Facebook, Twitter & Instagram), and helps to promote the website. She is also heavily involved in the scheduling of reviews and email communication as well. Over the years, she has helped to review at least 40 attractions each season, and has enjoyed every step of the way!
When the calendar turns to September, there is no doubt that Rachel is already busy updating the calendar and ready for the season to start. Haunt season for Rachel, is like Christmas for others!!!
As each season begins, she anxiously awaits to see what the attractions have to bring to this year's table and what new ideas and concepts take shape. She is excited to see what the veteran attractions do to surpass their previous performances and how the new blood does in their first showings.
Look for Rachel out on the road with the review team as another season begins this fall!
LUCAS KILLICK
Lucas has been part of the HHC Review Team since 2011, and is in fact the 1st member of our team that does not live in Illinois!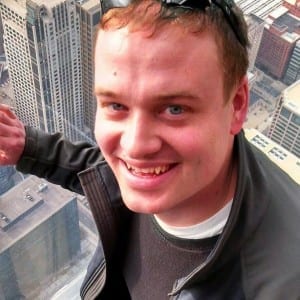 Lucas resides in Wisconsin Dells, WI, where he serves as a police officer for the Village of Lake Delton.  But when the calendar turns to September, he puts in his vacation requests, and joins us out on the road each and every weekend!
Lucas is another team member who has a love for Halloween.  Each and every year, his family sets up one of the most elaborate and highly recognized haunted graveyards in their front lawn.  Being featured in the Wisconsin Dells Events paper, this house is always a must see list for trick-or-treaters, and Halloween enthusiasts as well.  Every Halloween, the family comes together and hands out well over 300 candy bars, yes, you read correctly, 300!!  It definitely is quite the scene, and brings the neighborhood together each year.
Lucas is always ready for another season to begin and looks forward to seeing what each attraction brings to the table.
JAY TICZKUS
When Jay isn't pulling trucks out of ditches or recovering plane wreckage from the bottom of a lake as part of Speed Channel's hit TV show, "Wrecked", he is usually driving cross-country as part of O'Hare Towing's top-notch team of tow truck operators.
But, when the calendar turns to September and October, he puts in his vacation requests and prepares for another Halloween season full of nothing but haunted attractions!
As a former actor for the original "Asylum Experience" in Berwyn, IL, Jay learned at a young age the basics of haunted house acting. As he developed his own skills and characteristics, he learned that this was something he loved and was passionate about.
Jay has been a part of HHC Review Team for more than 15 years now and looks forward to the upcoming Halloween season!
KATLIN ADAMS
Katlin started as a part-time reviewer for HHC around 2015. But, by 2017,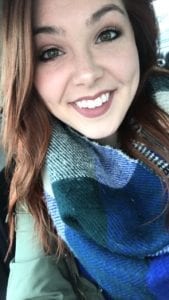 she was ready to go full-time!
Katlin's background is a little different than other members of the team. Besides being our resident "scaredy-cat," she is also our official photographer! Beginning in 2018, Haunted House Chicago will be increasing their social media output, including more behind-the-scenes, and up-close-and-personals with the actors/actresses, so we can help capture
how it looks and feels to be in the middle of the action.
Katlin's day job has her teaching 4th graders, which made for a prefect prerequisite for reviewing and capturing the monsters of the haunted house industry!
CAITLIN KILLICK
Caitlin met Lucas many years ago, and eventually got pulled
into attending haunted attractions. She eventually fell in love with the industry,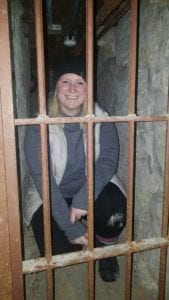 and the rest is history! She is officially the 2nd reviewer on our team from
Wisconsin. Caitlin resides in the Wisconsin Dells as well. When she isn't hunting
through the dark for her favorite creatures that go bump in the night, she is an
EMT dealing with the not-so-fake horrors of real life.
But, fun fact: She LOVES Michael Myers and has an obsession for all things Halloween!
You must log in to post a comment.