St. Patrick's Revenge: Curse of the Celtic Witch at Haunted Hills Hospital, March 9 & 16, 2019
Posted : February 19th, 2019
No Comments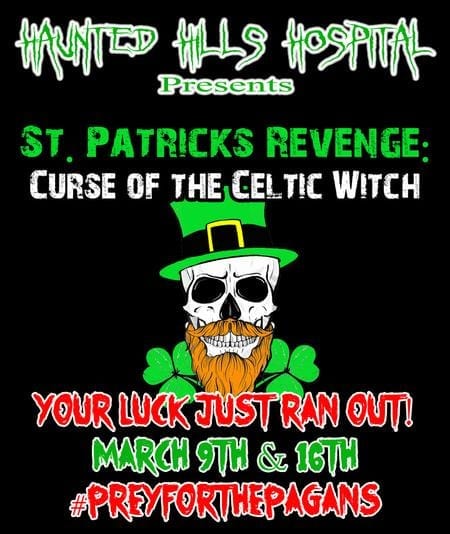 On March 17, 1819, a woman by the name of Abigael McDougan was burned at the stake by the early settlers of Hills Hollow, due to their belief that she was a witch. As she burned, she put a curse on the town of Hills Hollow that she would return. Time passed and the community forgot about Abigael and her curse. Hills Hospital was eventually built on the ancient grave yard that she was buried in. The evil energy from the torture of the patients has awakened her spirit and she has returned to seek her vengeance and has brought the demons of hell with her! The only thing stopping her from destroying Hills Hollow and the rest of the world is a group of Voodoo Shaman who are trying to send her back to hell. Travel through Haunted Hills Hospital and help them stop Abigael!
March 9 & 16, 2019 at 7:00 pm
Haunted Hills Hospital
4700 Central Ave, Lake Station, Indiana 46405
https://www.hauntedhillshospital.com
---
Do you have an event or news that would be of interest to Chicago's Halloween and haunted house enthusiasts? Submit it HERE - it's free and easy! Do you have a haunted house or Halloween attraction? Add it to our listings HERE! It's free and easy too!