Lost Souls Chicago Holiday Bus Tour
Posted : December 8th, 2018
No Comments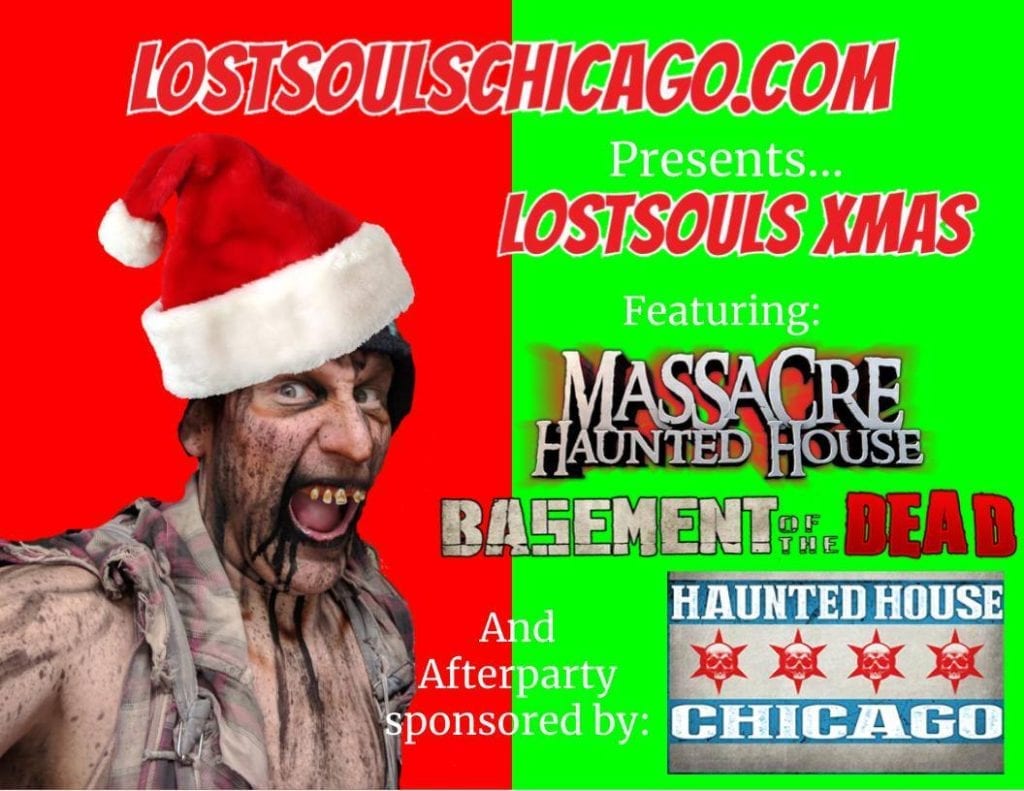 Looking for the perfect holiday present for that special boil or ghoul? Haunted House Chicago is proud to be sponsoring a special "X-Mas" edition of the Lost Souls Haunted Bus Tour!
Lost Souls Chicago is Chicagoland's premier haunted house bus tour, providing VIP access to the biggest haunted attractions in the area, and all without the hassle! Just board the bus, crack a cold beer, win some free swag, and party with friends while experiencing the best that our industry has to offer!
We were VERY excited to sponsor a Lost Souls adventure this past October, and were even more honored to be asked to party with them for this special holiday edition!
Patrons will start this year's journey from "The OuttaSpace" in Berwyn, Illinois, and board the Lost Souls bus. First on deck will be Massacre Haunted House's production of "Christmas Nightmare" in Montgomery, Illinois. Second on the tour will be Basement of the Dead's production of "A Very Scary Axe-Mas" in Aurora, Illinois. Finally, Lost Soulians will return to "The Outta Space" in Berwyn, Illinois, for a special after-party from Haunted House Chicago with some free drinks, apps, desserts, live music, and fellowship with haunters and haunt fans from around the Midwest!
(There's even going to be a special appearance by Kyle Vest from the TV show, "SkinWars!")
This event is 18 and over, and you must be 21 with legal ID to drink alcohol.
Work at a haunted attraction and want to attend? Email: lostsoulschicago@gmail.com for a special discount code.
For more information and to get your tickets, please go to: http://www.lostsoulschicago.com/lost-souls-xmas.html. We can't wait to see you there!
---
Do you have an event or news that would be of interest to Chicago's Halloween and haunted house enthusiasts? Submit it HERE - it's free and easy! Do you have a haunted house or Halloween attraction? Add it to our listings HERE! It's free and easy too!