Posted : September 7th, 2018
No Comments
Hello again, boils and ghouls! Welcome back for another season of the extravaganza known as "haunted-housing!" While fans eagerly await the doors of their favorite attractions to creak open, haunted attractions are applying new layers of spider webs, re-animating the zombies, and awakening their creatures of the dark from a long off-season slumber. Soon, the air will be filled with the sound of shrieks and screams! Ah, music to our ears.
We are very proud to announce this is our 20th season of promoting and reviewing haunted attractions! Our first season was in 1999, and since our first day, our mission has been the same: To help connect customers to a haunted attraction that fits their desired style of fear and budget, but also to help expose and promote great haunted attractions within 100 miles of Chicago. Sometimes those recommendations cross state lines, or take you down that long dirt road past the abandoned houses. But, taking you out of your comfort zone is exactly what we are about! For 20 seasons, our job has been to help you decide: Where do you want to scream tonight?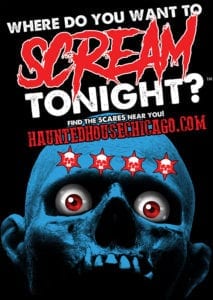 So, as we get ready to embark on another exciting journey this October, here's just a little preview of what to expect for the 2018 season.
The Cake
After traveling 2,588.80 miles last season, let's give another round of applause to all our award winners for 2017, as chosen by the Haunted House Chicago Review Team:
Best Haunted Attraction of 2017: Evil Intentions Haunted House in Elgin, Illinois
Best New Haunted Attraction of 2017: Was not presented (No new attractions for 2017)
Jim Warfield Acting Award Recipient: Ashley Martin as "Daisy" from Midnight Terror Haunted House in Oak Lawn, Illinois
Midwest Haunters Convention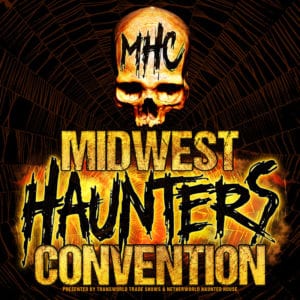 Welcome to Chicago! After 11 years in Columbus, OH, the team behind Midwest Haunters Convention has decided to bring the circus to Chicago! This is the ultimate Halloween trade event for operators, actors, fans, enthusiasts, and more! Mark your calendars now for June 6-9, 2019, at the Schaumburg Convention Center. It will include 60,000 square feet of exhibit space, special VIP haunted house tours of your favorite attractions, workshops, networking, parties, fashion shows, zombie walks, costume contests, and more! If you are reading this message, this convention is for YOU!
Click here for more information: http://www.midwesthauntersconvention.com

Movers & Shakers
For 2018, Disturbia returns! With Dream Reapers-vet, Ken Spriggs attached, Disturbia Haunted Attraction: Chicago will be taking up residence in Downers Grove, Illinois. We can't wait to see what they have in store!
Fables Studios owner, Pete Tomeczko, is working with Six Flags Great America on their latest edition of Fright Fest, which opens this September in Gurnee. We are excited to see what Pete and his team at Fables does for this industry mainstay, especially with this "Hell Fest" project!
Insanity Haunted House makes a big move from St. Charles, Illinois, to Peru, Illinois. We're looking forward to popping our heads in to see what the new digs look like.
The scare crew at Evil Intentions Haunted House is forecasting some big news in store for 2019. While details of a potential partnership with the Old Joliet Prison are still being worked out, stay tuned for breaking updates!
The rumor mill is reporting that the McHenry Jaycees may be back from the dead with a new location! We will find out for sure, and report back when we can confirm!
Get on the Bus
Returning this year, Japes Palles will be rolling out the bloody red carpet for the return of the Lost Souls Bus Tour.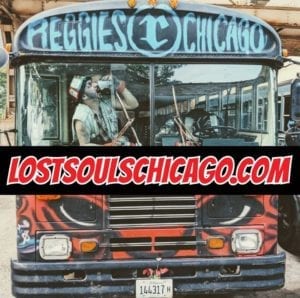 For four nights, patrons will be treated to gruesome fun and entertainment, and provided a unique VIP experience with behind-the-screams access to some of the best and scariest attractions in the Chicagoland market!
We are especially excited for Saturday, October 6, 2018, which will be "Haunted House Chicago Night!" All in one evening, patrons can join the HHC Review team as we visit & review the top 3 attractions from 2016 and 2017: Evil Intentions Haunted House, Statesville Haunted Prison & City of the Dead, and Basement of the Dead Haunted House. We might even have some free stuff for you!
All you have to do is buy a ticket, sit back, and run for your life!
Click here for more information: http://www.lostsoulschicago.com/tour-info.html
Our Deepest Sympathies
We lost a few members of our family since the last season. Jim "JT" Talent, one of the owners and creators of Dream Reapers Haunted House, passed back in March. Cindy, the matriarch of Reapers Realm Haunted Attractions, also passed recently. Both were incredibly passionate haunters, and made extremely significant contributions to our industry. Please keep the Talent, Hluska, Dream Reapers, and Reapers Realm families in your thoughts this season.
Farewell for Now
We are sad to report that there are a few closings to report for 2018. We hope this isn't forever, but we wish the owners, managers, and staff all the best in their future endeavors. Please know you will be greatly missed, and we hope you return bigger and scarier in 2019. These include:
Amhurst Asylum in Valparaiso, Indiana
Frightmare Haunted House at Haunted Trails in Burbank, Illinois
Psychosis Haunted House in Antioch, Illinois
Devil's Krypt in Cicero, Illinois
Warehouse X in East Dundee, Illinois
St. Pat's Haunted High in Kankakee, Illinois
Lombard Jaycees/C2H2 in Westmont, Illinois
Scare in the Park at Fun Times Square in Alsip, Illinois
Pestilence Haunted Attraction in Cedar Lake, Indiana
Creepy Hallow in Frankfort, Illinois
Happy Anniversary
Congratulations to the following attractions celebrating anniversaries of fear in 2018:
Niles Scream Park in Niles, Michigan – 45 Years
Evil Intentions Haunted House in Elgin, Illinois – 10 Years
Fear Fest in South Beloit, Illinois – 20 years
Reaper's Realm Haunted Attraction in Hammond, Indiana – 30 years
Special Extreme, Bloody, and Blackout Nights
The following attractions will be hosting special events during this season. (Please make sure to check their website for hours and additional information.)
DEAD Rising Haunted House in Alsip, Illinois – Extreme Event – 9/21 and 9/22
Haunted Hills Hospital in Lake Station, Indiana – Blackout Event – 10/30
Basement of the Dead in Aurora, Illinois – Blackout Event – 11/3
Massacre Haunted House in Montgomery, Illinois – Blackout Event – 11/3
Realm of Terror Haunted House in Round Lake Beach, Illinois – Bloodbath Event – 11/3
Abandoned Haunted Complex in Mount Pleasant, Wisconsin – Blackout Event – 11/3
Midnight Terror Haunted House in Oak Lawn, Illinois – Clown Takeover – 11/3
Raven's Grin Inn in Mount Carroll, Illinois – Open Year Round!
Stages, Screens, and Screams
Have any energy left? Need something to do on those nights off? (Insert laughter) Here's some fun ways to enhance your Halloween holiday season:
TV: While we all wait until next summer for season 3 of Stranger Things on Netflix, who caught Hulu's Stephen King-inspired Castle Rock? If you haven't, take the time to check this one out; it is worth your time! (The season finale hits September 12th.) American Horror Story is back on September 12th for its 8th season under the title of "Apocalypse." (Kathy Bates is back, so that's all that matters, right?) Walking Dead season 9 rises from the crypt on October 7th. (Fear the Walking Dead is scheduled to finish its 4th season on September 30th.) In sad news, we recognize that after three seasons, Ash vs Evil Dead was canceled. BUT, we do have the final season of Game of Thrones to look forward to in April 2019. Don't forget to set your DVRs to record the Saturday weekly installment of Svengoolie, catch the 31 Nights of Halloween on Freeform (All October), AMC's Fear Fest (October 13-31), and of course, the Simpsons' annual Treehouse of Horror XXIX (October 21st).  AND if you get bored, give Westworld a whirl… AND you heard it here first – keep your eyes peeled for Lovecraft Country coming soon.
MOVIES: Unless you have been chained to a dungeon wall, you should have heard the biggest "horror" news to hit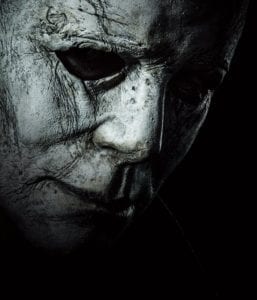 the big screen in quite some time: Mikey is back! While technically the 11th installment in the franchise, this film is being billed as a direct sequel to the 1978 original and disregards all of the other chapters. With John Carpenter, Jamie Lee Curtis, and Malek Akkad attached, the doors to Haddonfield, Illinois, open once again on October 19th, as Halloween takes over theatres once again.
In other big screen horror movie news, it might be time to consider that AMC season-pass/ticket offer, because this is a great season! Get out your rulers as The Nun brings the habit on September 7th. A new Predator movie hits the following Friday, September 14th. Jack Black has an entry to the list with The House with a Clock in its Walls on September 21st. Rounding out September, Hell Fest roars on the 28th. Venturing into October, Venom string in on the 5th. One of our childhood classics, Goosebumps, has a Haunted Halloween entry on the 12th. Moving into November, Suspiria looks very interesting, and might help with our haunted hangover on November 2nd. Another Grinch movie hits November 9th. Prepare yourself now for another journey back into the Harry Potter universe on November 16th for the 2nd chapter of Fantastic Beasts! Anna and the Apocalypse also perks our interest on November 30th. (For fun, Ralph Breaks the Internet aka Wreck-It Ralph 2 arrives just in time for Thanksgiving on Wednesday, November 21st!)
MUSIC: A blast from the past, 311 and Offspring play Northerly Island on September 6th, 5 Seconds of Summer at the Aragon on September 8th, Fall Out Boy and Rise Against at Wrigley Field on September 8th, Childish Gambino at the UC on September 8th, Orgy at the Silver Buckle Saloon in Highland, IN, on September 13th. Riot Fest is September 14-16th. Life of Agony at the Forge in Joliet on September 21st. The legendary Ozzy Osbourne hits the World/Hollywood Casino Amphitheatre on September 21st. Kid Rock plays there the next night, September 22nd. J Cole hits the AllState on September 22nd, as well as Nonpoint ducks into the Bottom Lounge on the same night. Jackyl returns to the Forge on September 23rd. Closing out September, GNR's Slash plays the Four Winds Casino in New Buffalo, MI on September 29th. For October, the triple–threat Justin Timberlake is at the UC on October 5th, Devil Wears Prada at the Rave in Milwaukee on October 6th, Skindred slays into the Forge on October 9th, the funny AND talented Lil'Dicky at Aragon on October 11th, the animated Gorillaz are at the United Center on October 16th, and Twenty One Pilots the next night on October 17th. Madison-rockers Garbage are at the Riviera on the 17th. Trivium commits sin at House of Blues on October 21st, and the godfather of hard rock, Alice Cooper rocks the city at the Coronado in Rockford on October 24th. Nine Inch Nails scratches at the Aragon for a three-night event on October 25th, 26th, and 27th. Gwar and Hatebreed will be at The Sylvee in Madison, WI, on October 26th. Push some daisies with Ween at Aragon on Halloween, but save some for Ghost who hits the next night on November 1st. Rob Zombie's John 5 will be at the Forge on November 1st as well. Stabbing Westward will be at the House of Blues on November 3rd. To close out the season, the legendary Maynard James Keenan will be in the only stop in the area with A Perfect Circle at the Alliant Energy Center in Madison, on November 10th.
SPORTS: While there aren't any horror-inspired sports reports to give, the Hawks pre-season starts on September 18th, and regular season kicks off on October 4th. (Hawks actually play on Halloween this year!) In baseball, the Sox may be out, but the Cubs and Brewers are projected to go deep in the postseason and are on top of the NL Central standings. The Bears and Packers play each other on Sunday, September 9th, in the first game of the season. Finally, the Bulls kick off their season on September 30th, and Bucks on October 3rd. (On a side note, we are pretty big Wisconsin Badger fans here at HHC, so looking forward to the season ahead!)
Although we intend for all dates and locations to be accurate, please check/research before setting off on your journey.
Early Birds
This year's October only has four weekends. So, many attractions are opening the last weekend in September. But, there are a special few that are opening even earlier than that! For those that already have the itch, here's a list of those opening early:
Niles Haunted Scream Park in Niles, Michigan – Opens 9/14
Six Flags Great America Fright Fest in Gurnee, Illinois – Opens 9/15
13th Floor Haunted House in Melrose Park, Illinois – Opens 9/21
DEAD Rising Haunted House in Crestwood, Illinois – Opens 9/21 (Special Extreme Weekend)
Evil Intentions Haunted House in Elgin, Illinois – Opens 9/21
Abandoned Haunted House Complex in Mt. Pleasant, Wisconsin – Opens 9/22
Catch Me Outside
New for 2018, Haunted House Chicago is giving back to its fans and patrons even more! Throughout the season, you will want to follow us on social media channels for opportunities to win free shirts, swag, and tickets to many of the haunted attractions throughout the Chicagoland area. We will be posting our full review schedule, and encourage you to find us as we travel to over 40 different attractions. If you find us, take a picture with us, tag us, and we will reward you with free Haunted House Chicago gear! (And maybe even some free tickets to Midwest Haunters Convention!)
Follow us here:
FACEBOOK:
http://www.facebook.com/HauntedHouseChicagoReviewTeam
http://www.facebook.com/ChicagoHauntedHouses
TWITTER:
http://twitter.com/HauntedHouseChi
INSTAGRAM:
https://www.instagram.com/HauntedHouseChicago/
SNAPCHAT:
https://www.snapchat.com/add/HHCReviewTeam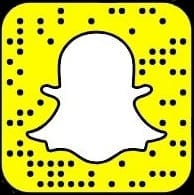 We look forward to meeting you throughout this season!
Kris' Note
Most people don't know that Anthony Bourdain has served (and continues to serve) as an unknowing inspiration for the work we do. While not horror-focused, he helped show us the excitement of venturing into the unknown, breaking free from a rigid itinerary, and including the adventure of the journey in the experience. He showcased the awesome impact of meeting people from different walks of life, eating their food, and walking in their shoes. To be open, flexible, and receptive to change. And, finally to enjoy the ride.
Reflecting on 20 seasons of doing this amazing work, I can't help but to thank each of our patrons, haunt owners, actors, and all that are a part of our industry and community. I feel so honored to have met you and shared the journey with you. To experience your art, dreams, passion, blood, sweat, and tears, is something that one can only dream about! I consider myself lucky to be able to do this work with amazing people FOR amazing people. I hope to continue to find a place in your hearts and heads for another 20 years.
With that, I leave you with this quote from Anthony Bourdain:
"Travel isn't always pretty. It isn't always comfortable. Sometimes it hurts, it even breaks your heart. But that's okay. The journey changes you; it should change you. It leaves marks on your memory, on your consciousness, on your heart, and on your body. You take something with you. Hopefully, you leave something good behind."
With that, we thank you for reading. Keep checking HauntedHouseChicago.com for the latest updates and happenings to help make your holiday season the scariest and safest yet!
Frightfully Yours,
The Haunted House Chicago Staff/Review Team
---
Do you have an event or news that would be of interest to Chicago's Halloween and haunted house enthusiasts? Submit it HERE - it's free and easy! Do you have a haunted house or Halloween attraction? Add it to our listings HERE! It's free and easy too!