2018 Review Team Schedule
Posted : September 14th, 2018
No Comments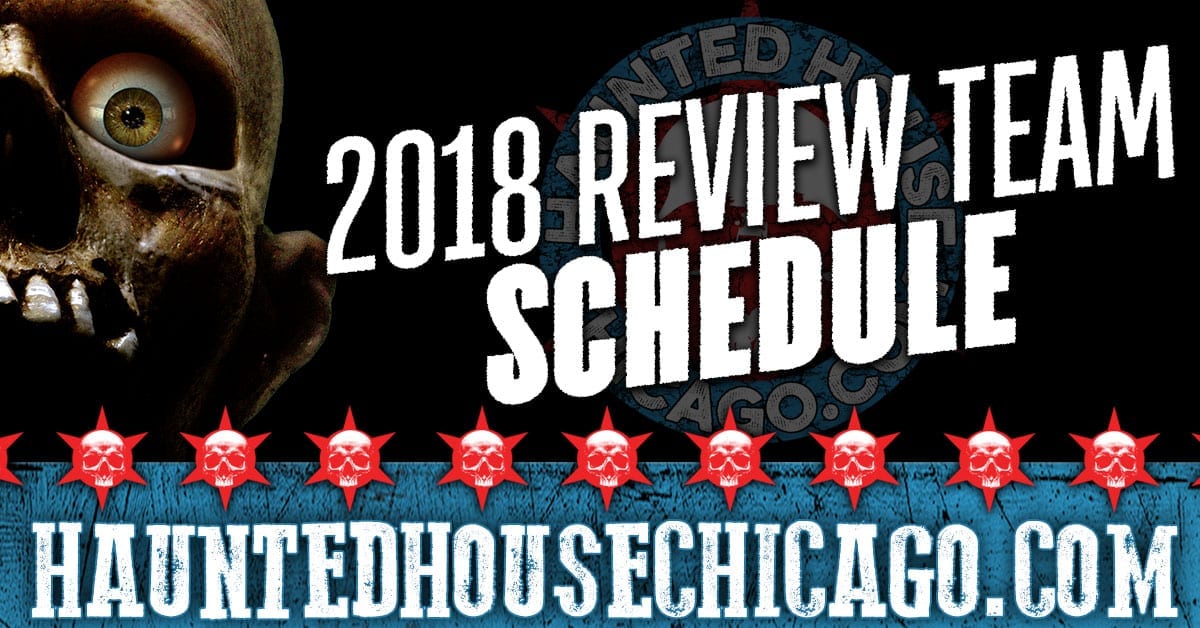 Here is the official 2018 Haunted House Chicago Review Team schedule.  Find us at all of the great haunted attractions in the Chicagoland area, get some free stuff, and maybe even win some prizes! Make sure to tag us on social media and win tickets, HHC swag, and much more!
Sunday, September 30
Six Flags Great America Fright Fest; Gurnee, IL
Friday, October 5
Niles Haunted House Scream Park; Niles, MI
Saturday, October 6
LOST SOULS HAUNTED BUS TOUR – HauntedHouseChicago.com 2017 Top 3 Tour
Statesville Haunted Prison & City of the Dead; Crest Hill, IL
Basement of the Dead & Shattered 3D Nightmare; Aurora, IL
Lost Souls Haunted Bus Tour After Party at Evil Intentions in Elgin, IL hosted by HauntedHouseChicago.com
Sunday, October 7
Midnight Terror Haunted House; Oak Lawn, IL
The Massacre Haunted House; Montgomery, IL
D.E.A.D. Rising Haunted House; Crestwood, IL
Thursday, October 11
The Hill Has Eyes; Franklin, WI
Friday, October 12
Hayride of Horror & Curse of the Bayou; Lockport, IL
Heaps Haunted Corn Maze; Minooka, IL
Insanity Haunted House; Peru, IL
Saturday, October 13
Realm of Terror Haunted House; Round Lake Beach, IL
Soul Reapers Haunted House; Twin Lakes, WI
Abandoned Haunted House Complex; Mt. Pleasant, WI
Sunday, October 14
Reaper's Realm; Hammond, IN
Thursday, October 18
13th Floor Chicago; Melrose Park, IL
House of Torment Chicago; Morton Grove, IL
Friday, October 19
Tour of Terror; Hobart, IN
Haunted Hills Hospital; Lake Station, IN
Criminally Insane Haunted House; Crown Point, IN
Saturday, October 20
Dr. S.Cary's Haunted House; Delavan, WI
Karnival of Karnage; Belvidere, IL
Evil Intentions; Elgin, IL
Sunday, October 21
Undead Acres; Monee, IL
HellsGate Haunted House; Lockport, IL
Thursday, October 25
The Catacombs of St. Pascal; Chicago, IL
The Park after Dark; Chicago, IL
Friday, October 26
Hair Razor at St. Thecla; Chicago, IL
Scream Scene; Skokie, IL
St. Viator Stairway to Insanity; Chicago, IL
Saturday, October 27
Fear Fest; South Beloit, IL
Hoppers Haunted House; Rockford, IL
Twisted Crypt; Rockford, IL
Sunday, October 28
McHenry Jaycees; McHenry, IL
Nightmare at the Terrace; Worth, IL
*Please note, that due to driving, operating hours and weather, this schedule may change at any time. *
---
Do you have an event or news that would be of interest to Chicago's Halloween and haunted house enthusiasts? Submit it HERE - it's free and easy! Do you have a haunted house or Halloween attraction? Add it to our listings HERE! It's free and easy too!