Statesville Haunted Prison Now Hiring!
Posted : August 13th, 2018
No Comments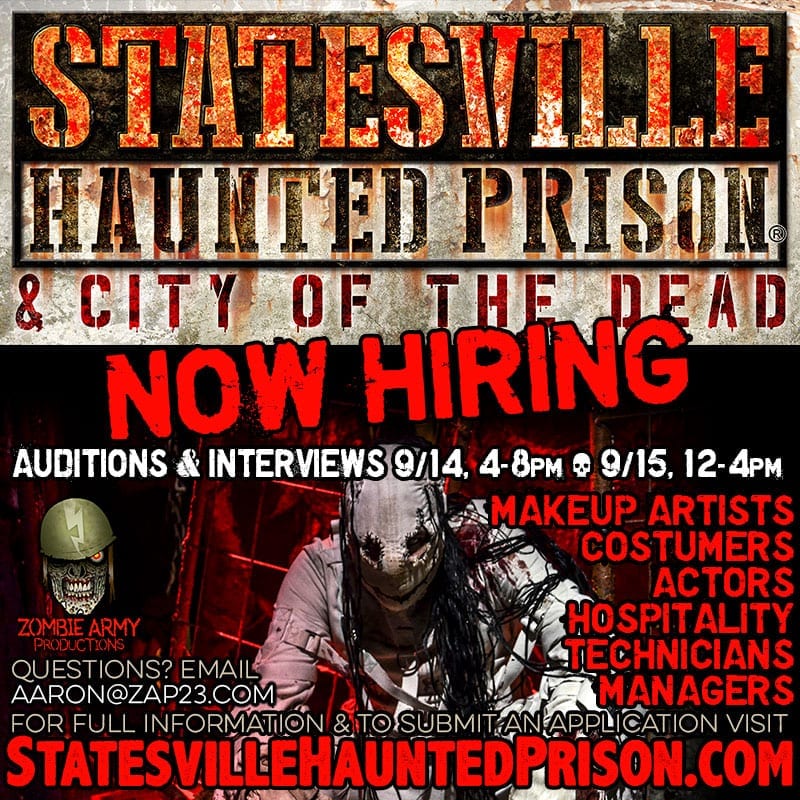 Statesville Haunted Prison, Chicago's #1 Haunted House, is NOW HIRING! If you enjoy the idea of scaring people for money, or bringing your artistic talents to the show, or you are simply looking for an exciting life experience, we have a place for you. We are hiring over 150 PAID positions! Actors, Makeup Artists, Costumes, Technicians, Hospitality Crew are all needed. This October, join Zombie Army Productions and get ready for Rocktober!
Where: Siegel's Cottonwood Farm, 17250 S. Weber Rd, Crest Hill, IL 60441
(Drive towards the back and park, walk through the fire gate near the back building and head towards the door between the two haunted house facades.)
When: Friday September 14th 4-8pm & Saturday September 15th 12-4pm
What: Bring applicable resume and/or work samples, wear comfortable clothes to move in. (note- resume NOT required to audition)
Questions? Email Aaron@zap23.com
For full info & to submit an application, visit www.statesvillehauntedprison.com
Facebook event page: https://www.facebook.com/events/921720031361130/
---
Do you have an event or news that would be of interest to Chicago's Halloween and haunted house enthusiasts? Submit it HERE - it's free and easy! Do you have a haunted house or Halloween attraction? Add it to our listings HERE! It's free and easy too!