Haunt Your Valentines Weekend at These Chicagoland Attractions!
Posted : February 1st, 2018
No Comments
Several Chicagoland haunted houses will be open the weekend before Valentines Day for you and your spooky sweetheart, including:
Basement of the Dead presents VALENTINES DAY IN WONDERLAND.
The nationally recognized and award winning haunted attraction Basement of the Dead for the third year now, will be bring a new way to spend the night and get close to your sweetheart on Valentines weekend… by scaring you into each other's arms! Forget the same old movie or dinner date, do something new and exciting by spending the night walking through a Wonderland themed haunted house.
The Queen of Hearts will be expecting you and if she does not take your head, she will give you a lighted rose to traverse through the darkest depths of the Basement. That's right, all the light you will get is the light from your rose! This is a truly unique experience that only comes for one weekend a year.
The dates are February 9th 7pm to 10pm and February 10th 6pm to 10pm. There will be indoor waiting area and you will get to take a picture with the queen herself. This event will sell out book you date now at www.basementofthedead.com.
---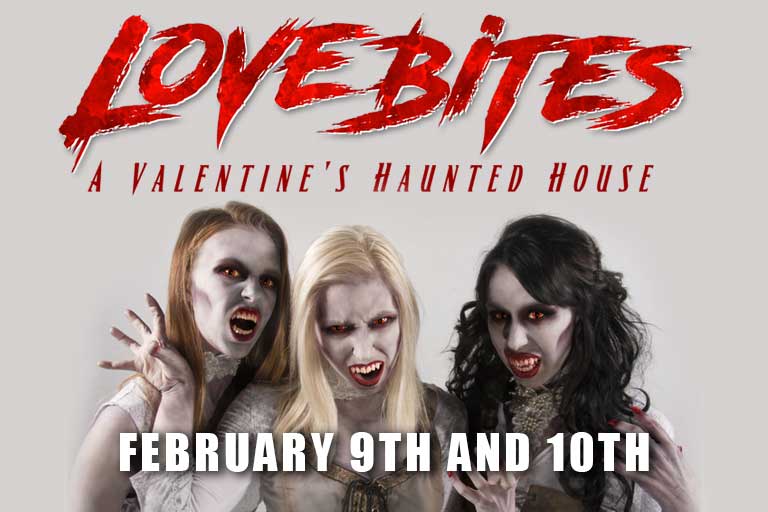 The 13th Floor Haunted House Chicago presents LOVE BITES, February 9th & 10th.
Lord Tenebris has slept for centuries waiting, anticipating, a world easy to take over. His brides have searched during his slumber waiting for the world to be ready.
That time is now.
His minions are hatching, his brood is returning, his legacy is on the horizon. Do you have what it takes to vanquish Lord Tenebris? Are you brave enough to enter the decaying manor and banish these creatures of the night from this world?
Full details & tickets at http://valentineshauntedhouses.com/chicago/!
---
Is your Chicagoland haunted house open for Valentines Day? Let us know by emailing spirits@hauntedhousechicago.com or using the SUBMIT NEWS button and we'll post about it for you!
---
Do you have an event or news that would be of interest to Chicago's Halloween and haunted house enthusiasts? Submit it HERE - it's free and easy! Do you have a haunted house or Halloween attraction? Add it to our listings HERE! It's free and easy too!