KRAMPUS: A Haunted Christmas at the 13th Floor Haunted House Chicago, December 8th & 9th
Posted : November 14th, 2017
No Comments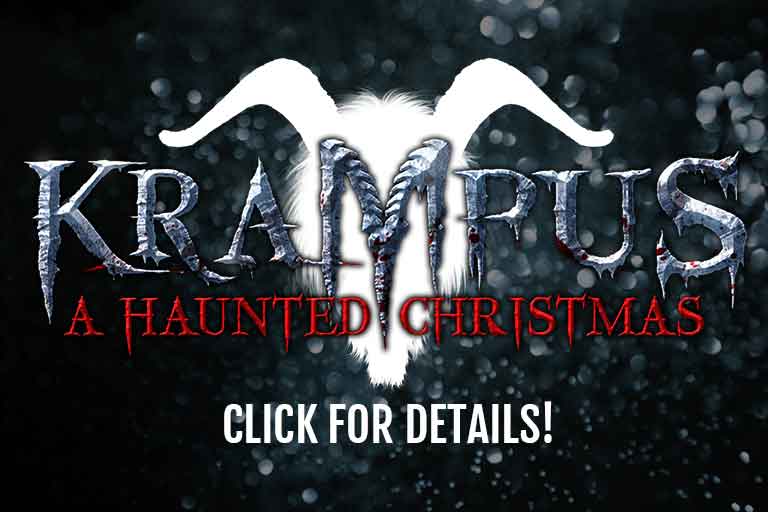 The 13th Floor Haunted House presents KRAMPUS: A Haunted Christmas, for 2 nights only – December 8th & 9th! Featuring:
INTERACTIVE CHRISTMAS THEMED HAUNT
The haunted house has swapped it pumpkins for Christmas lights, zombies for elves. Your favorite holiday takes a demonic turn in this Christmas themed interactive haunted house. Keep your eyes peeled and find all of your favorite holidays traditions but this time full of holiday jeer.
PHOTO OP WITH KRAMPUS
Get your photo taken with Krampus: The Demonic Beast of Christmas. Get up close and personal with his sharp teeth and horns that tower in height. Just be careful not to get too close to his sack!
CHRISTMAS TREATS
What is Christmas without holiday treats? This time it looks as though Krampus has put out the cookies in order to lure all the children into his sack. Be careful not to get snatched up.
For full details & tickets, visit http://krampushauntedchristmas.com/chicago/!
Is your haunted attraction doing something special for the holiday season? Be sure to let HHC know so that we can help you spread the word!
---
Do you have an event or news that would be of interest to Chicago's Halloween and haunted house enthusiasts? Submit it HERE - it's free and easy! Do you have a haunted house or Halloween attraction? Add it to our listings HERE! It's free and easy too!