'Twas the Night Before Halloween…
Posted : October 30th, 2017
No Comments
Happy Devil's Night!
As the season is coming to an end, we thought we'd leave you with a little something to help get your Devil's Night started.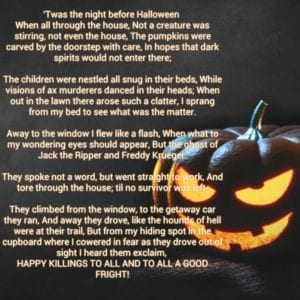 The following haunted attractions are open tonight:
Basement of the Dead & Shattered 3D Nightmare; Aurora, IL
D.E.A.D. Rising Haunted House; Crestwood, IL
Evil Intentions Haunted House; Elgin, IL
Frightmare Haunted House @ Haunted Trails; Burbank, IL
Haunted Hills Hospital; Lake Station, IN
HellsGate Haunted House; Lockport, IL
Hoppers Haunted House; Rockford, IL
House of Torment Chicago, Morton Grove, IL
Midnight Terror Haunted House; Oak Lawn, IL
Reaper's Realm; Hammond, IN
Statesville Haunted Prison & City of the Dead; Crest Hill, IL
The Massacre Haunted House; Montgomery, IL
Trail of Screams & Screamatorium; Rockford, IL
Warehouse X; East Dundee, IL
13th Floor Chicago; Melrose Park, IL
(Please make sure to visit their website for hours of operation)
Stay tuned for our announcements tomorrow as we name our 2017 Haunted Attraction of the Year, Jim Warfield Actor of the Year, and our Official 2017 Top 13 List!
---
Do you have an event or news that would be of interest to Chicago's Halloween and haunted house enthusiasts? Submit it HERE - it's free and easy! Do you have a haunted house or Halloween attraction? Add it to our listings HERE! It's free and easy too!