2017 Haunted Attraction of the Year
Posted : October 31st, 2017
No Comments
As we end another amazing season out on the road, our last and final award goes out to the 2017 Haunted Attraction of the Year:
Evil Intentions Haunted House
Elgin, IL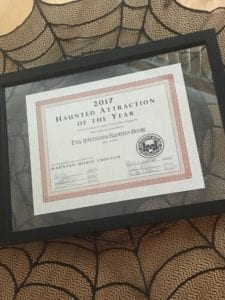 Congratulations on an AMAZING season!
---
Do you have an event or news that would be of interest to Chicago's Halloween and haunted house enthusiasts? Submit it HERE - it's free and easy! Do you have a haunted house or Halloween attraction? Add it to our listings HERE! It's free and easy too!