Chicago's Room Escape Conference, August 12-14, 2016 at the Renaissance Schaumburg Convention Center Hotel
Posted : April 5th, 2016
No Comments
This summer, TransWorld is unveiling the nation's largest, concentrated escape room conference and trade show, smack dab in the heart of the USA, just north of Chicago.
The 3 day conference will feature an amazing interactive trade show floor, brilliant puzzle makers, experimental game writers, visionary businesspeople and top-of-the-line set designers, all gathering to compare notes and learn about one of the entertainment industry's newest and fastest growing Industries …ESCAPE ROOMS! The trade show floor will feature NEW and innovative products you will not see anywhere else. This is a must attend event!
"Escape games, and their owners, are totally fascinating," says Jen Braverman, President of TransWorld Trade Shows. "We're working directly with the escape room industry to build a conference that will give you ideas on what to incorporate into your escape games. This conference will give attraction owners, prospective owners, vendors and enthusiasts various opportunities, events and even places on the trade show floor to hangout, mix, mingle and network with peers."
CREC will also offer a series of over 40 subject-targeted seminars covering a broad range of topics in the escape room industry, from advertising and tech props to introductory courses to advanced workshops.
Besides the networking opportunities and education track, attendees will also get to see interactive product demonstrations, attend panel discussions featuring experts in the topics under discussion and enjoy after-hours parties.
Chicago's Room Escape Conference will take place on a 60,000 square foot trade show floor at Chicago's Renaissance Schaumburg Convention Center Hotel. Advance show admission is $25 ($30 on site) and tickets are available NOW at http://www.roomescapeshow.com. Seminar registration will be added to the site soon, as well as a VIP all-inclusive pass (including admission to all seminars and mixers).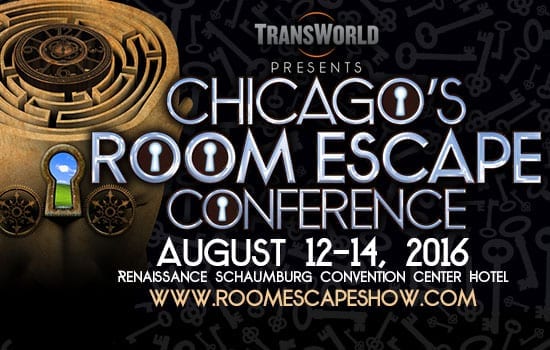 ---
Do you have an event or news that would be of interest to Chicago's Halloween and haunted house enthusiasts? Submit it HERE - it's free and easy! Do you have a haunted house or Halloween attraction? Add it to our listings HERE! It's free and easy too!