Kosart Effects 2014 Halloween Monster Mask Give-Away!
Posted : October 6th, 2014
No Comments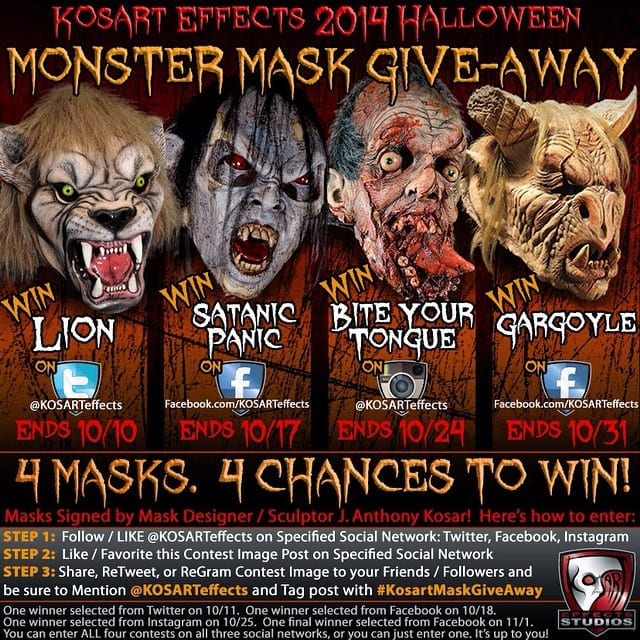 Enter the FREE Kosart Effects 2014 Halloween MONSTER MASK GIVE-AWAY, from Chicago's own Face Off Champion J. Anthony Kosar!
4 Masks, 3 Social Networks, 4 Chances to WIN! One mask will be raffled off each week from now until Halloween, signed by Mask Designer / Sculptor Anthony.
Here is how to enter in 3 simple steps:
Follow / LIKE page @KOSARTeffects on Specified Social Network: Twitter, Facebook, Instagram.
Like / Favorite this Contest Image Post on Specified Social Network.
Share, ReTweet, or ReGram Contest Image to your Friends / Followers and be sure to Mention @KOSARTeffects and Tag post with #KosartMaskGiveAway
Winners selected at random by searching the tag #KosartMaskGiveAway on the specified Social Network. One winner selected from Twitter on 10/11 for Lion Mask. One winner selected from Facebook on 10/18 for Satanic Panic Mask. One winner selected from Instagram on 10/25 for Bite Your Tongue Mask. One final winner selected from Facebook on 11/1 for Gargoyle Mask. You can enter ALL four contests on all three social networks, or you can just enter one. It's up to you!
---
Do you have an event or news that would be of interest to Chicago's Halloween and haunted house enthusiasts? Submit it HERE - it's free and easy! Do you have a haunted house or Halloween attraction? Add it to our listings HERE! It's free and easy too!