MIDNIGHT TERROR HAUNTED HOUSE OPENS OCT. 2 AT BEATTY LUMBER SITE
Since he was 10 years old, Oak Lawn native Justin Cerniuk has yearned to create the ultimate spookhouse. Now, with the Oct. 2 opening of Midnight Terror Haunted House, Oak Lawn's first ever commercial haunted attraction, Cerniuk is about to realize that dream — and give nightmares of the frightfully fun kind to the thousands of visitors expected to attend.
Cerniuk partnered with village officials to repurpose the long-abandoned Beatty Lumber yard property at 9531 S. 52nd Ave., host site of Midnight Terror, and create a win-win for everyone involved. Working diligently round the clock since August, Cerniuk and his team have converted the 4,000-square-foot Beatty warehouse into a creepy fear factory that will feature dozens of unique props, over 30 costumed actors, and 15 different rooms — including a crypt of the damned, haunted forest, and blackout barracks — that wind throughout the facility in unexpectedly frightening fashion.
Midnight Terror will provide patrons with memorable thrills they won't get at any other paid horror-themed attraction. Everything inside is meant to overwhelm your senses, look disturbingly authentic and unfold unpredictably. From the custom-built animatronics and finely detailed props to the distinctive wall textures, eerie lighting design, and improvisational scare tactics of the actors, Cerniuk promises a Halloween thrill destination that's a cut above the rest.
"We've even designed certain spaces to have distinctive scents, like the musty smell of the boiler room and the mildewed odor of the catacombs," says Cerniuk, who personally designs and fabricates nearly every prop, façade and effect used in Midnight Terror. "And visitors are getting a great value. This is no quick stroll through and you're done. The attraction lasts up to 15 minutes, and it doesn't end when you exit the building. There are more scares waiting for you outside, too."
Visit MidnightTerrorHauntedHouse.com for full details and information.
Do you have news or a press release for your Halloween event or haunted attraction? Send it to spirits@hauntedhousechicago.com!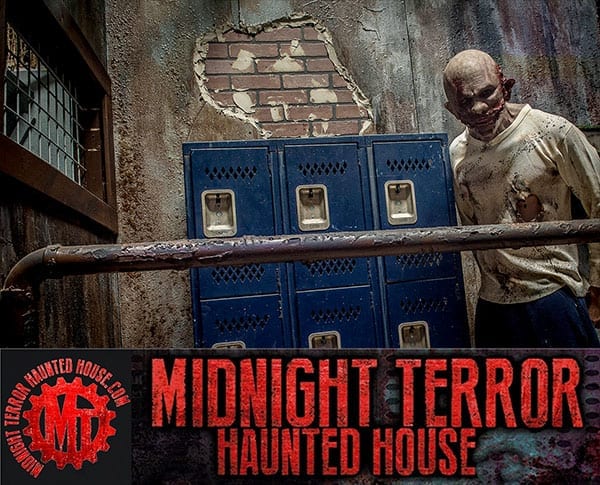 Go to Post...