Frightmare Haunted House at Haunted Trails Family Amusement Park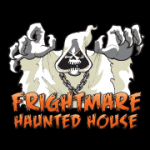 Frightmare Haunted House at Haunted Trails Family Amusement Park
Frightmare Haunted House is presented by and located at Haunted Trails Family Amusement Park in Burbank, IL. Open during the month of October, Frightmare's two-story maze of terror represents one of Chicagoland's favorite haunted houses situated in a year-round Halloween-themed family amusement park.
Haunted Trails is one of Chicagoland's premiere family entertainment destinations.
Besides coming out for a quality scare at an affordable price, there's lots to do to make your visit a full evening of Halloween FUN! Our Miniature Golf course was voted BEST IN CHICAGOLAND 4 years in a row. The course contains 4 miniaturized haunted houses with special sound effects and lighting. A half-million dollar go-kart track will keep your competitive adrenaline going! Lock yourself in a cage with bats (the baseball variety) for only $1.50 for 18 pitches.
Haunted Trails is the site of games development around the world. Two buildings house approximately 200 of the industry's newest games. If you get hungry, visit Charmin' Charley's restaurant, where you can dine on pizza and other favorites!
For more information, visit the park website at: www.hauntedtrailsburbank.com