Posted : November 28th, 2018
No Comments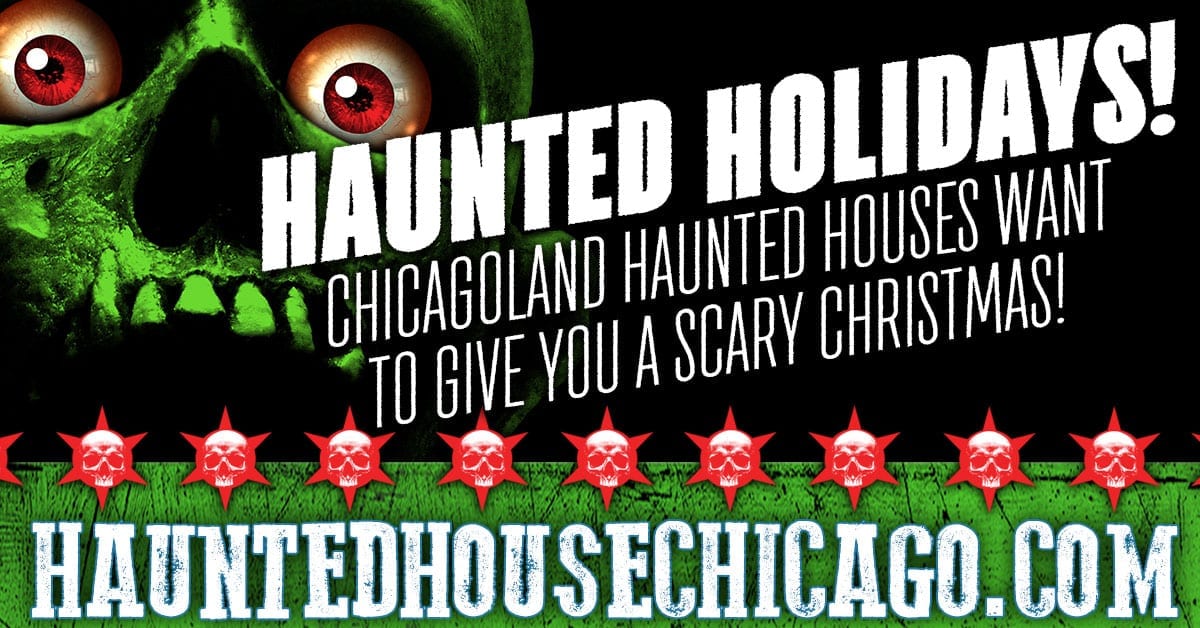 While Halloween may live 365-days a year in our hearts and heads, most muggles are preparing for holiday celebrations. Luckily, you don't have to wait until next Halloween to get your scream on! Whether you look for St. Nick or Krampus this season, we are here to help shed some darkness on the millions of imported twinkle lights. Here's a listing of all the attractions within 100-miles of Chicago that are producing special holiday haunting experiences. So, grab the egg nog, complete another viewing of Christmas Vacation, and get the sleigh ready for some holiday haunted houses!
(Listed in alphabetical order)
13th Floor Chicago presents: "Krampus: A Haunted Christmas, Chapter 2: Jack Frost"
Melrose Park, Illinois
Friday, December 7th, and Saturday, December 8th
https://krampushauntedchristmas.com/chicago/
Basement of the Dead presents: "A Very Scary Axe-Mas"
Aurora, Illinois
Friday, December 21st, and Saturday, December 22nd
https://basementofthedead.com/
Haunted Hills Hospital presents: "The Haunting of Ebenezer"
Lake Station, Indiana
Saturday, December 8th, and Saturday, December 15th
https://www.hauntedhillshospital.com/the-haunting-of-ebeneezer.html
Massacre Haunted House presents: "Christmas Nightmare"
Montgomery, Illinois
Saturday, December 15th, Friday, December 21st, and Saturday, December 22nd
http://fearthemassacre.com/
Midnight Terror Haunted House presents: "Christmas Fear"
Oak Lawn, Illinois
Friday, December 14th, Saturday, December 15th, and Sunday, December 16th
http://midnightterrorhauntedhouse.com/
Raven's Grin Inn
Mt. Carroll, Illinois
Open Year-Round, Except Wednesdays
http://hauntedravensgrin.com/
Find the HHC team at the events above for some free swag, or even some free tickets to Midwest Haunters Convention next June in Schaumburg, Illinois! http://www.midwesthauntersconvention.com/
And from all of us at Haunted House Chicago, may you have a frightfully fun holiday season!
---
Do you have an event or news that would be of interest to Chicago's Halloween and haunted house enthusiasts? Submit it HERE - it's free and easy! Do you have a haunted house or Halloween attraction? Add it to our listings HERE! It's free and easy too!
You must log in to post a comment.