St. Patrick's Day Fear at Midnight Terror Haunted House
Posted : March 10th, 2017
No Comments
Times have changed; the traditions of our fathers are no longer. The Youth has destroyed the old ways and ushered in an era of selfishness. They celebrate St. Patrick's Day in their own way, giving nothing back to the traditions of the past. The Leprechauns will no longer sit idle, and let the past be destroyed by the present! They have come to put a stop to the shenanigans, and murder anyone they can find!
Experience an Interactive St. Patrick's Day Themed Haunted House. Travel through the Town of Black Oak Grove, and experience the revenge of bloodthirsty ancient Leprechauns. Solve puzzles, and set traps to capture the Leprechauns, in hopes of claiming their Pot of Gold. Do you have the Luck of the Irish, will you survive St. Patrick's Day Fear!!!
Save $10 | Limited pre-sale tickets available at https://mthh.ticketleap.com/leprechauns
Midnight Terror Haunted House | www.MidnightTerror.com
5520 W 111th St, Oak Lawn, IL 60453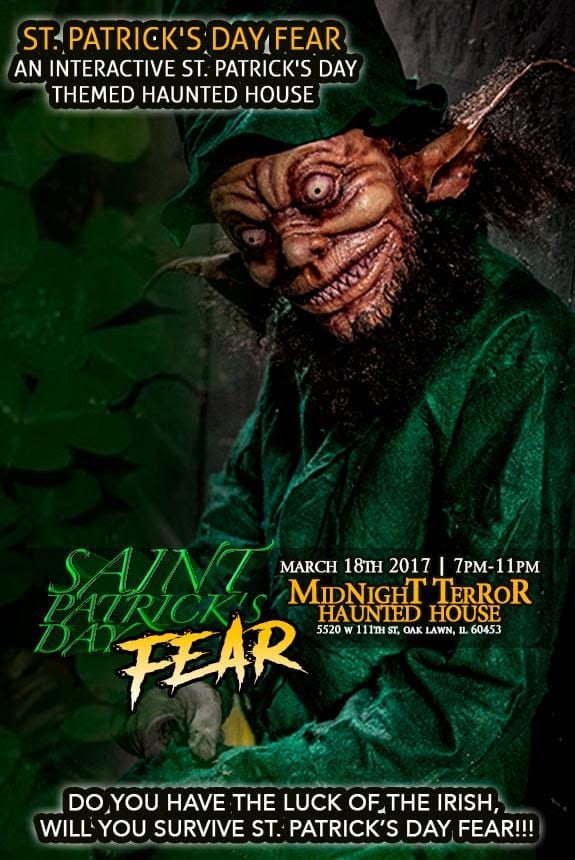 ---
Do you have an event or news that would be of interest to Chicago's Halloween and haunted house enthusiasts? Submit it HERE - it's free and easy! Do you have a haunted house or Halloween attraction? Add it to our listings HERE! It's free and easy too!